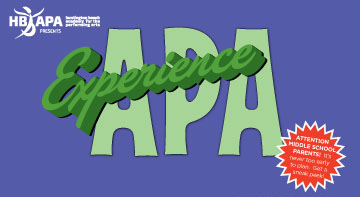 The Academy for the Performing Arts gives insight into its inner workings at this all day immersive and informational event.
The APA Open House is on October 14th from 8:30 a.m.-3:30 p.m. on the HBHS campus located at 1905 Main Street Huntington Beach. The day includes master classes, informational sessions and campus tours for prospective 2018-2019 APA students and parents, as well as interested community members. Musical Theatre performs a scene from "The Little Mermaid," which also opens that weekend. Each department will offer insight through small performances or videos in their respective meetings.
The California Department of Education chose APA as one of eight model school sites for the Career Technology Education (CTE) Arts, Media and Entertainment (AME) sector. APA also invites other model schools' educators and administrators to tour the facilities at the Open House event.
Space is limited, so please RSVP by October 4th at tinyurl.com/apa-open-house-2017 to ensure placement in the student's preferred sessions. For more information, contact the APA office at 714.536.2514 ext. 4025. AME attendees are to RSVP at tinyurl.com/apa-ame-2017.