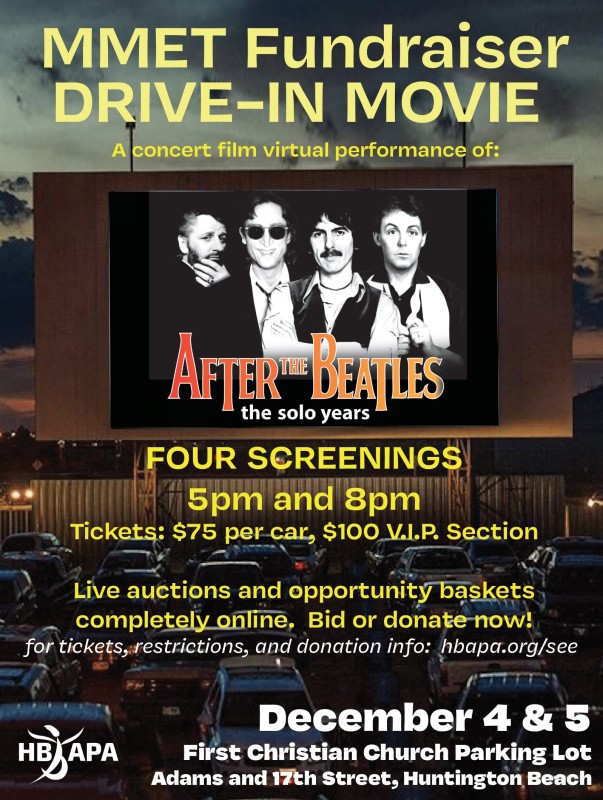 This year, APA will present its annual Beatles concert, AFTER THE BEATLES: THE SOLO YEARS, in drive-in movie format. Guests can view the student-driven concert film from the comfort and safety of their vehicles, with all proceeds benefitting APA's MMET department.
HB APA will present four showings of the drive-in movie on December 4th and 5th at 5:00 p.m. and 8:00 p.m. The screenings will take place at the First Christian Church of Huntington Beach outdoor lot. Tickets are available through hbapa.org/see and are priced per vehicle.
Each year, MMET pays tribute to the Beatles' extensive music history with its fundraiser concert series, The Beatles Story. The fundraiser is more important than ever this year due to COVID-19's strain on the program. To cope with everchanging circumstances, students have learned, recorded, and filmed each of their individual parts to the show from home. They have then worked with MMET faculty to combine their submissions into a single concert film spectacular!
Want to know more? About AFTER THE BEATLES: THE SOLO YEARS – The Beatles may have called it quits at the end of the '60s, but they most certainly didn't quit making great music. In an abstract continuation of our "The Beatles Story" concert series, we've created a show that weaves together a setlist of the band's best-known and best-loved material from after their split. To keep the musicians and audience safe, we've turned our annual fundraiser concert into a drive-in film experience created by the students themselves.