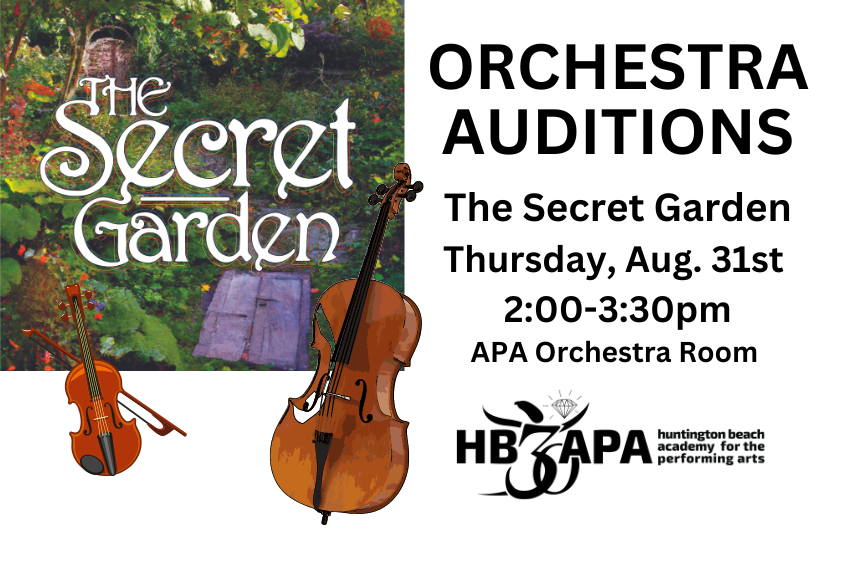 Orchestra Auditions for The Secret Garden
Thursday, Aug. 31st
2:00-3:30pm in the APA Orchestra Room
Students please prepare any short piece that shows off your proficiency on your instrument. You will also be asked to sight read a short passage.
Secret Garden Orchestra Needs:
Woodwind 1 (Flute, Piccolo, Recorders), Woodwind 2 (Oboe, English Horn), Woodwind 3 (Clarinet, Bass Clarinet), Horn 1, Horn 2, Trumpet, Trombone, Violin 1, Violin 2, Viola, Cello, Bass, Percussion, Keyboard 1, Keyboard 2
NOTES from the Director:
Keyboard 1 is the primary piano book but has dozens of other sounds and patches that add orchestral padding to the live players. Among the sounds found in this book are harp, various acoustic guitar, Fender Rhodes, dulcimer, sitar, flute, sarod, tambura, tabla, timbale, bells, strings, celeste, lute, and a handful of SFX. The most interesting patch is a 4 measure section in "There's A Girl II" that uses a heckelphone which is essentially a bass oboe. The only other time we know this sound is used in a Broadway musical is in "Wicked" , and no surprise, both shows have the same orchestrator, Bill Brohn.
Keyboard 2 is even more densely programmed than Keyboard 1 and will take lots of preparation since there are lots of player notes due to octave displacements in some songs that need to happen due to overlapping notes in the part. This book adds gorgeous harmonies and depth to the orchestration but be prepared that some sections of this book do not necessarily "fit" into a piano player's hands as easily as other Keyboard 2 theater books. Some of the sounds found in this book are Fender Rhodes, celeste, strings, harp, bells, tabla, sarangi, bagpipes, sitar, woodwinds, dulcimer, lute, and many others. This book also has a bit of heckelphone in "House Upon The Hill".
Thank you - Mr. Nelson and Mr. Bement