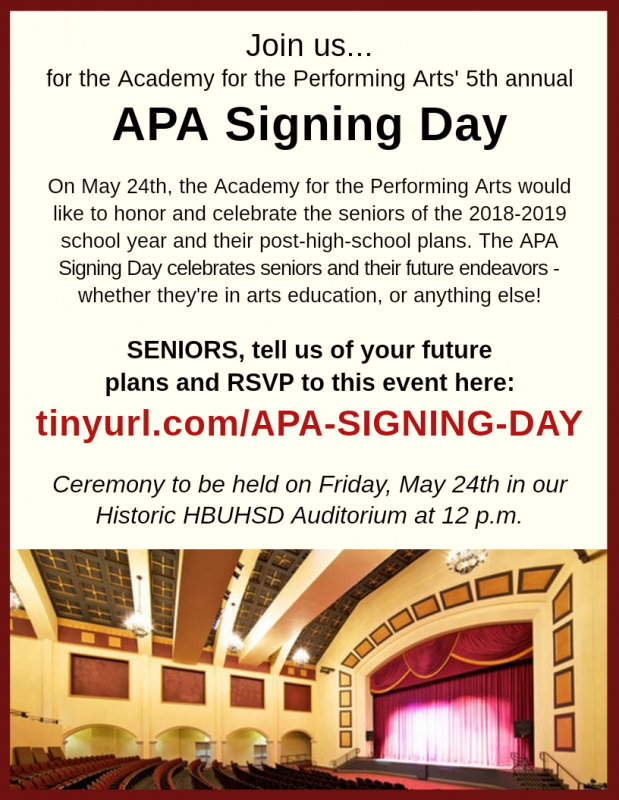 ATTENTION ALL APA SENIORS (and the people that love them and would love to celebrate them!):
It's time for our APA Signing Day!
Friday, May 24th at 12 p.m.
HBUHSD Auditorium, immediately following the HBHS Star Awards
The APA Signing Day will celebrate our seniors and their post-high-school plans - whether they be in continued arts education, or anything else! All APA Seniors wishing to partake in this event must fill out the Google form below:
tinyurl.com/APA-Signing-Day-2019

** Seniors who who would like to be recognized & included in this event must fill out the form above by Thursday, May 9th at 3 p.m. **

Everyone is invited to attend our APA Signing Day (even if you don't have an APA Senior this year, come celebrate with us!). Please RSVP through this link below (so we know how big of a cake to have - YUM!):
tinyurl.com/RSVP-APA-SIGNING-DAY

We can't wait to see you there! Congratulations to the APA Senior class of 2019!