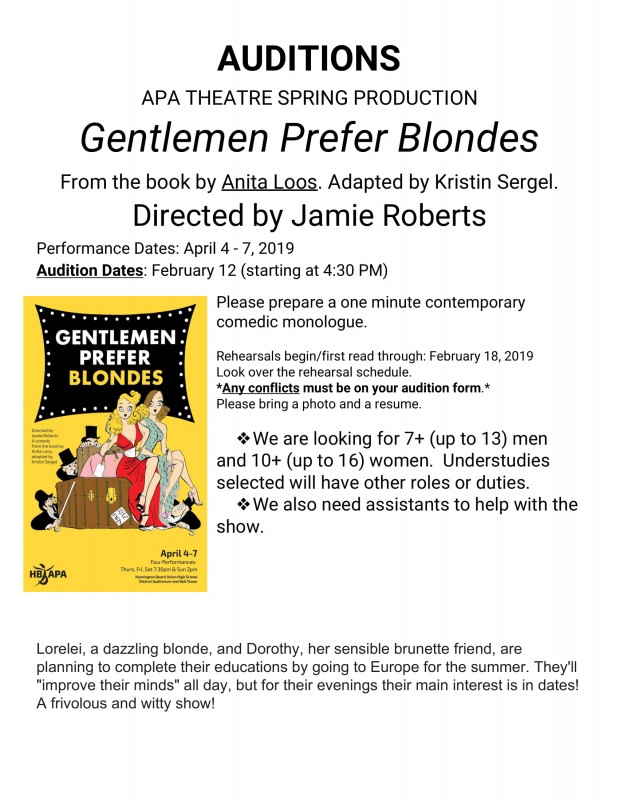 Auditions for Acting's "Gentlemen Prefer Blondes" are on Tuesday, February 12th!
Performance dates: April 4 - 7, 2019
Audition dates: February 12 (starting at 4:30 PM)
Rehearsals begin/first read through: February 18, 2019
What to do for auditions: Please prepare a one minute contemporary comedic monologue.
Look over the rehearsal schedule.
*Any conflicts must be on your audition form.*
Please bring a photo and a resume.
We are looking for 7+ (up to 13) men and 10+ (up to 16) women. Understudies selected will have other roles or duties.
We also need assistants to help with the show.
Gentlemen Prefer Blondes - Character Breakdown
Lorelei is a dazzling blonde with the most wonderful mixture of sweetness, naivete and downright practicality to be found in one person. She is seldom perturbed by any situation; her ample and utterly amazing fund of philosophic knowledge always saves the day. To say that she has a "way" with men is a complete understatement.
Dorothy is an attractive brunette; she is a good-natured sport with a somewhat caustic sense of humor. Although she is Lorelei's friend, she continues to be baffled at the workings of that girl's mind.
Daddy is a big, gruff, rawboned man with a Middle Western twang. He can be hard-headed in a business deal, but Lorelei has no trouble wrapping him around her finger.
Bert is an attractive young man.
Sam is a flamboyant young man who imagines himself a writer.
The Captain is a stern, rather "stuffy" individual who manages his ship with an iron hand.
Mrs. Van Osborne is an aggressive, middle-aged woman with social aspirations
Sylvia is Mrs. Van Osborne's daughter. She is a typical flapper of the period.
Mrs. Van Austin, like Mrs. Van Osborne, is a social climber.
Margaret is a meek, plain-looking girl.
Mrs. Spoffard is a sweet, elderly lady who is hardly allowed to take a deep breath for herself without permission. There is a constant air of bewilderment about her.
Henry is a very naive, proper young man. He has been brought up in "the lap of luxury," and has rarely known what it is to make a decision for himself. Lorelei finally manages to change all that.
Miss Chapman is around thirty-five, a militant woman who is never bewildered by anything.
Aunt Dolly is a squarely-built, middle-aged woman, the crusader type. She declaims rather than speaks.
Broussard, Sr. AND Broussard, Jr. Both are dapper little Frenchmen; one is the father, the other is the son. The elder Broussard has a moustache. Both are voluble and use their hands a great deal.
Chambermaid is young, friendly and astute (with a French accent?).
Ensemble (including): Lorelei and Dorothy's friends in Act I sc 1 (3 girls, 2 boys); an attractive young man at the end of Act I sc 1; two stewards (or stewardesses) in Act I sc 2; a porter (French accent?) in Acts II and III; hotel manager (French accent?) in Act II sc 2
Doubling may occur