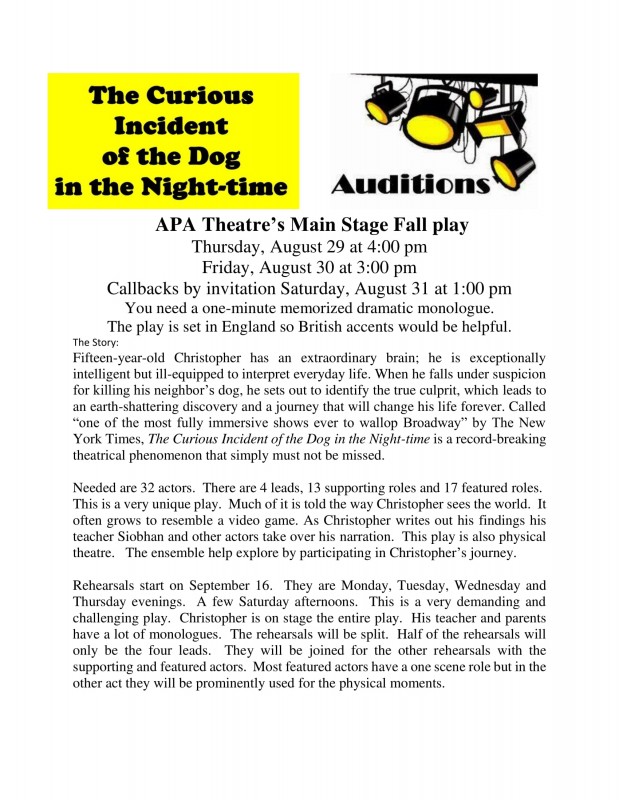 APA Acting's Main Stage Fall Play: "The Curious Incident of the Dog in the Night-Time"

Auditions:
Thursday, August 29 at 4:00 pm
Friday, August 30 at 3:00 pm
*Callbacks by invitation Saturday, August 31 at 1:00 pm
Prepare:
1. A one-minute memorized dramatic monologue
2. The play is set in England, so British accents would be helpful!
Character Descriptions:
https://tinyurl.com/fall-play-charact-desc

The Story:
Fifteen-year-old Christopher has an extraordinary brain; he is exceptionally intelligent but ill-equipped to interpret everyday life. When he falls under suspicion for killing his neighbor's dog, he sets out to identify the true culprit, which leads to an earth-shattering discovery and a journey that will change his life forever. Called "one of the most fully immersive shows ever to wallop Broadway" by The New York Times, "The Curious Incident of the Dog in the Night-time" is a record-breaking theatrical phenomenon that simply must not be missed.
Needed are 32 actors. There are 4 leads, 13 supporting roles, and 17 featured roles. This is a very unique play. Much of it is told the way Christopher sees the world. It often grows to resemble a video game. As Christopher writes out his finding,s his teacher Siobhan and other actors take over his narration. This play is also physical theatre. The ensemble help explore by participating in Christopher's journey.
Rehearsals start on September 16. They are Monday, Tuesday, Wednesday and Thursday evenings (and a few Saturday afternoons). This is a very demanding and challenging play. Christopher is on stage the entire play. His teacher and parents have a lot of monologues. The rehearsals will be split. Half of the rehearsals will only be the four leads. They will be joined for the other rehearsals with the supporting and featured actors. Most featured actors have a one scene role but in the other act they will be prominently used for the physical moments.