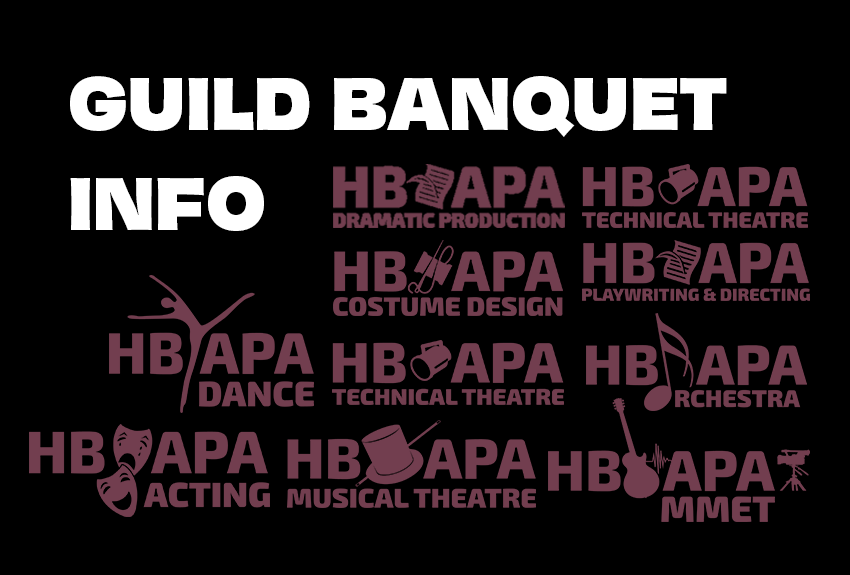 APA Guild Banquets
Here is what you need to know…
Deadlines are NOW approaching!
Each APA Guild will celebrate with their own end-of-the-year banquet. This is where students and families from your APA Guild/Department come together for specific, Guild-related recognitions and awards. Remember, if your student has a minor, you may want to consider going to both departments' banquets. Deadlines will vary - get your tix today! You can click the links below for each individual banquet.
Each of the APA Guild Banquets will take place very soon, before the All-APA Academy Awards occurs on Saturday, June 10th - which is open to all APA Departments.
APA Dance Guild Banquet | June 4th at Miles Square Park Golf Course
APA Theatre Guild (Acting, Tech, Costume & Dramatic Prod) Banquet | June 5th at Old World HB
APA Musical Theatre Guild Banquet | June 7th at The Rose Center Theater
MUSICAL THEATRE GUILD BANQUET INFO
APA MMET Guild (Media & Pop) Banquet | June 7th at Old World HB
APA OMG (Orchestra, Band, Drumline, Jazz Band & Color Guard) Banquet | June 8th at Miles Square Park Golf Course