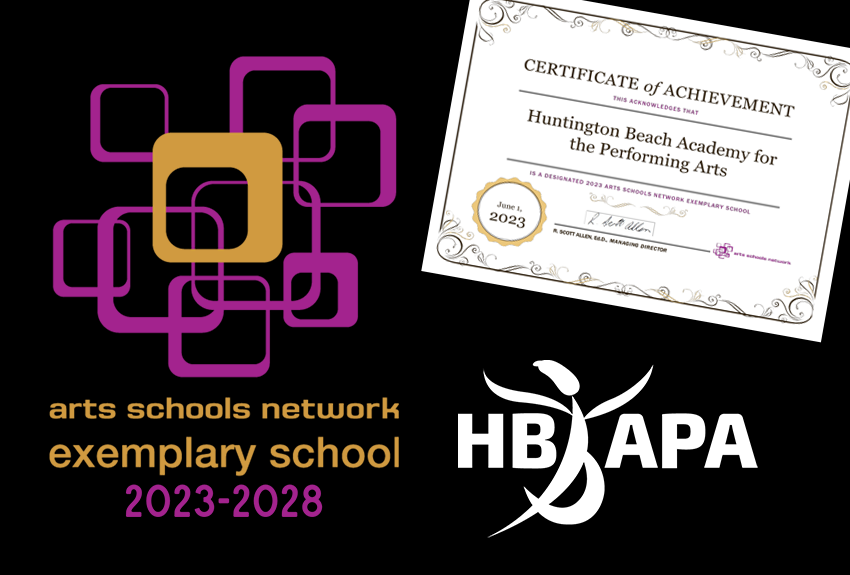 THE HUNTINGTON BEACH ACADEMY FOR THE PERFORMING ARTS NAMED EXEMPLARY SCHOOL BY ARTS SCHOOLS NETWORK
The Arts Schools Network Board of Directors has named the Huntington Beach Academy for the Performing Arts an Exemplary School in recognition of its commitment to excellence. The five-year designation is awarded for 2023-2028.
Arts Schools Network (ASN), the nation's largest professional membership organization of specialized arts schools, awards Exemplary School designations to members that follow A Guide to Assessing Your Arts School in strategically evaluating their school's purpose, operations, and educational programs. The Guide is a collaborative effort by ASN and the Accrediting Commission for Community and Pre-collegiate Arts Schools (ACCPAS). ASN will honor the school at the Awards Ceremony during the ASN 2023 Annual Conference, Birmingham, Alabama.
The Huntington Beach Academy for the Performing Arts (HB APA) is a performing arts academy within a traditional high school setting. APA provides an intensive educational program which cultivates in students the discipline, dedication and passion necessary to achieve excellence in the arts. Our program focuses on creating an inclusive atmosphere for young artists to realize and develop their own potential.
At APA, ambitious young students can extend both their arts education and academic education simultaneously. Involvement in the Academy not only increases the self-esteem of its artists, but often raises their level of academic achievement, as 41% of APA students earn above a 4.0 GPA. APA offers college and career prep courses in Acting, Costume Design, Dance, Dramatic Production, Media, Musical Theatre, Popular Music, Orchestra and Technical Theatre to over 600 students each year.
APA is a magnet arts program for the Huntington Beach Union High School District and has been selected by the California Department of Education as a Model CTE School in the Arts, Media & Entertainment Sector
Dr. R. Scott Allen, Managing Director for ASN, said, "We offer guidance, inspiration, and incentives to arts school leaders who strive for excellence in their schools. When they demonstrate outstanding efforts toward this goal, as they do by following A Guide to Assessing Your Arts School, we recognize and reward their achievements with this designation."
Dedicated to excellence and leadership in arts education, Arts Schools Network, a non-profit association founded in 1981, provides arts school leaders, innovative partners and members of arts education institutions with quality resources, support and networking opportunities.
Visit www.artsschoolsnetwork.org to learn more.