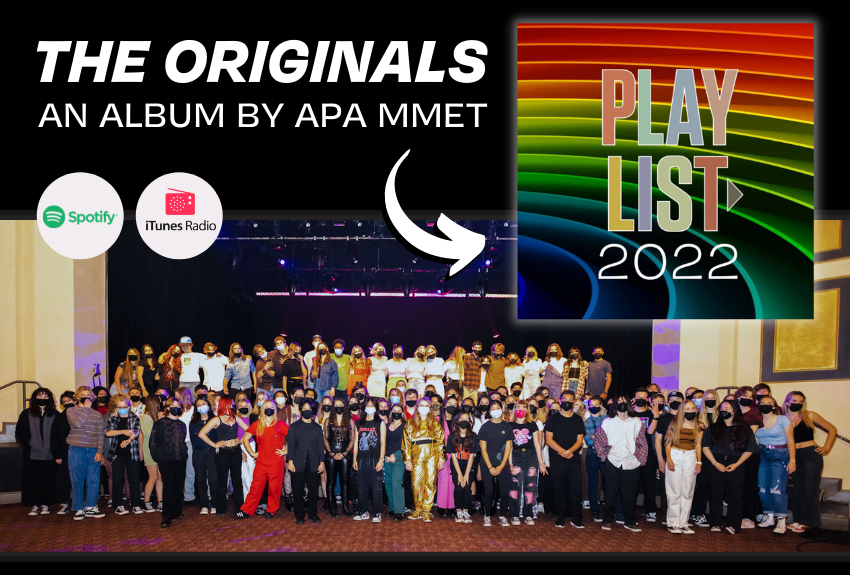 The APA MMET Popular Music students have released an album of original music titled Playlist 2022 Original Songs, complete with eleven original tracks written, arranged, recorded, and mixed by the students.
To stream on Spotify: https://hbapa.online/spotify.
To stream on iTunes: https://hbapa.online/itunes.
Track Listing:
Daniel Bronder & Otis: "What it Takes"
Maile Hotra: "Teeth of a Woman"
Kiera McInally: "Rain Check"
Brayden Nguyen: "Beautiful Mind"
Colin Kenahan: "Feel Less"
Simone Carroll: "Lipstick on Elaine"
Asher Chang: "The Crown"
Alexis Pitt: "Friday Nights"
Kyle Schuesler: "Can't Be Wrong"
Grace Leahy: "Save Me"
Ava Johnson: "I Don't Like Me"
Director Danielle Collins, Producer Michael Simmons, Assistant Producer Nicole Kubis, Recording Artists & Production Assistants: all songwriters, Zach Perazzo, River Shaia, Andrew Selecky, Jasmine Dennis, Noah Chang, Trevor Dodge, Stephen Alva, Gina Rodriguez, Brianna Rupert, Derek Tonel, Caley Guth, Bobby Johnson, Nicolas Matusoff, Katie Nacino, Spencer McDonald, Jasmine Vartio, Alani Browning.