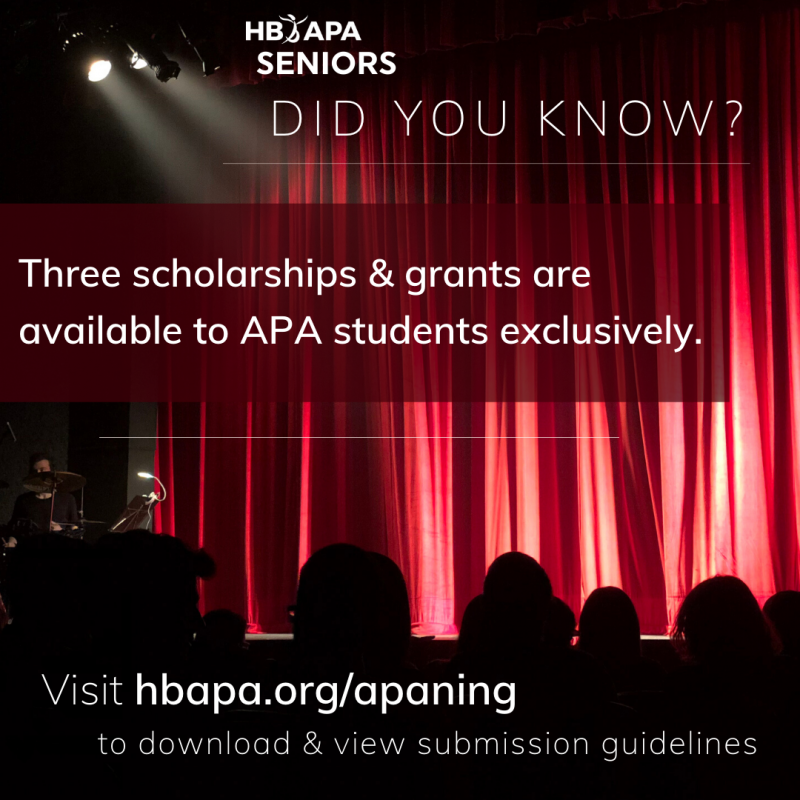 We have some exciting news for our APA seniors: it's time to apply for up to three different HB APA grants and scholarships - which are exclusively available to our spectacular APA seniors! Each grant or scholarship will contain its own guidelines for eligibility and submission. To download the applications and begin the submission process, see below.
Huntington Beach Academy for the Performing Arts Grant 2020
bit.ly/hbapa-grant-2020
To be eligible, students must be pursuing an advanced study in their chosen artistic field immediately following graduation; whether that be through a college, university, conservatory, program, internship, or employment.
This is a $10,000 grant.
The Clyde Crego & Doug Keen Memorial Grant: Next Steps Forward
bit.ly/next-steps-forward-2020
This grant was created to support those who will be receiving valuable training, work experience, internships, and/or "tools of the trade" in order to help them secure gainful employment after graduation.
The grant is offered in two separate categories:
PERFORMING ARTIST GRANT - $5,000: Designed to create opportunities for students who wish to engage, experiment, risk, and grow as a performing artist; including but not limited to: actors/play writers/dir2ectors, dancers/choreographers, singers/song writers, musicians/conductors, etc.
TECHNICAL ARTS & INSTRUCTOR GRANT - $5,000: Designed to create opportunities for students interested in learning more or making a career in technical theatre/production design and media film and television production. To support growth in the concepts and skills needed to plan and implement small to full scale productions including, but not limited to: stage management, set/lighting/sound design, costuming (including hair and makeup design), etc.
Good luck to all!