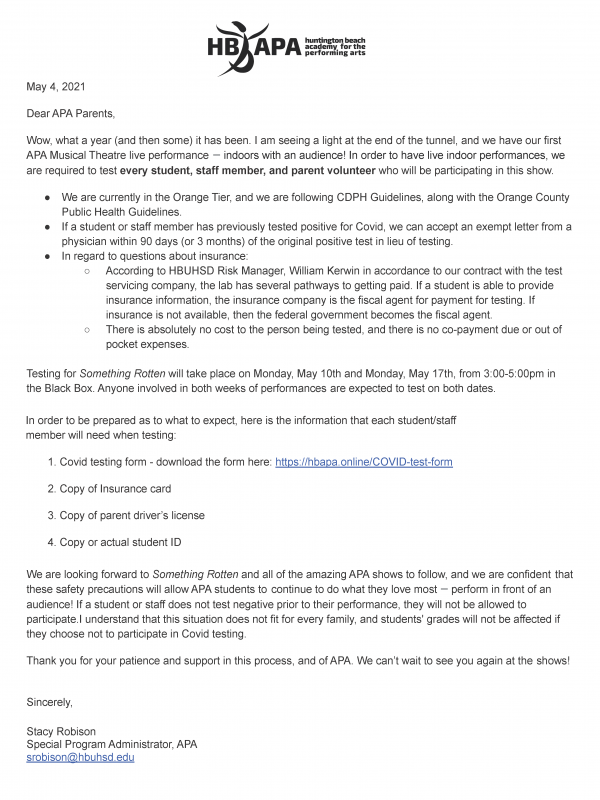 ATTENTION: "SOMETHING ROTTEN" STUDENT CAST, CREW, ORCHESTRA, STAFF, AND PARENT VOLUNTEERS —
May 4, 2021
Dear APA Parents,
Wow, what a year (and then some) it has been. I am seeing a light at the end of the tunnel, and we have our first APA Musical Theatre live performance — indoors with an audience! In order to have live indoor performances, we are required to test every student, staff member, and parent volunteer who will be participating in this show.
We are currently in the Orange Tier, and we are following CDPH Guidelines, along with the Orange County Public Health Guidelines.
If a student or staff member has previously tested positive for Covid, we can accept an exempt letter from a physician within 90 days (or 3 months) of the original positive test in lieu of testing.
In regard to questions about insurance: - According to HBUHSD Risk Manager, William Kerwin in accordance to our contract with the test servicing company, the lab has several pathways to getting paid. If a student is able to provide insurance information, the insurance company is the fiscal agent for payment for testing. If insurance is not available, then the federal government becomes the fiscal agent. - There is absolutely no cost to the person being tested, and there is no co-payment due or out of pocket expen
Testing for Something Rotten will take place on Monday, May 10th and Monday, May 17th, from 3:00-5:00pm in the Black Box. Anyone involved in both weeks of performances are expected to test on both dates.
In order to be prepared as to what to expect, here is the information that each student/staff member will need when testing:
Covid testing form - download the form here: https://hbapa.online/COVID-test-form
Copy of Insurance card
Copy of parent driver's license
Copy or actual student ID
We are looking forward to Something Rotten and all of the amazing APA shows to follow, and we are confident that these safety precautions will allow APA students to continue to do what they love most — perform in front of an audience! If a student or staff does not test negative prior to their performance, they will not be allowed to participate. I understand that this situation does not fit for every family, and students' grades will not be affected if they choose not to participate in Covid testing.
Thank you for your patience and support in this process, and of APA. We can't wait to see you again at the shows!
Sincerely,
Stacy Robison
Special Program Administrator, APA
srobison@hbuhsd.edu